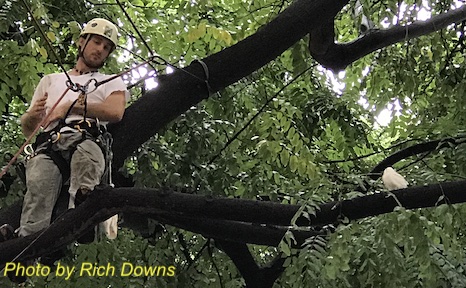 Additional meetings scheduled:
Thursday May 16, 4pm
UH Manoa, SOEST Courtyard, 1680 East-West Road

Visitor Parking behind the Kennedy Theater
Saturday May 18, 9am
Iolani Palace, Coronation Bandstand Street Parking
Experts from the US Fish and Wildlife Service, Hui Manu-o-Kū, and DLNR's Division of Forestry and Wildlife met yesterday with a group of tree companies and others on the UH Manoa campus, where Manu-o-Kū chicks were could be seen perching in the kukui trees, to learn new professional protocols for work near breeding sites of manu-o-Kū, or White Terns.
Manu-o-Kū (Gygis alba), is one of the few protected native bird species to inhabit urban areas on Oahu. Manu-o-Kū was named Honolulu's official bird in 2007, and there are now nearly 1,400 nesting sites in nearly 1,000 trees in the densest parts of Oahu. Harming adults, chicks or eggs can result in tree owners or tree workers running afoul of wildlife agencies. However, at yesterday's meeting the atmosphere was one of cooperation as everyone discussed how to get tree work done and protect the manu-o-Kū.
Keith Swindle and Rich Downs, from the US FWS and the Hui respectively, led the group in a review of manu-o-Kū biology, how to survey for breeding activity, how to determine when a situation is a real emergency and how to respond, and routine tree work around breeding sites. In the past, in part due to gaps in knowledge about the bird's biology, experts promoted a "do not prune" approach whenever there was breeding activity. With better data and expert observation, experts are now backing improved tree pruning approaches. Yesterday, Swindle instructed attendees on details of how to prune and carry out tree care cautiously and responsibly. Attendees came away understanding that, with training and use of professional best practices, it is possible to carry out tree care around manu-o-Kū breeding sites.
During the event, Downs highlighted an incident that occurred that very morning when a tree had been knocked down and a chick fell to the pavement. The City & County crew who were present to clean up had been told that no White Terns could be touched, and they were very hesitant to pick up the chick and put it in a safe place. This training aimed to dispel this and other old practices, and to emphasize that wildlife protectors, tree owners and tree workers have mutual interests and can help each other reach their goals.
Aloha Arborist Association is grateful to the Kaulunani Urban & Community Forestry Program for funding this project, and to the City & County of Honolulu Division of Urban Forestry and other project partners for helping make strides in promoting improved tree care practices around manu-o-Kū.
If you have any questions or comments, or would like to be added to the email list for this project, please drop us a line at info@alohaarborist.com, or call (808) 518-6141.