Lessons from AAA's Kaulunani Project
Manu-o-Kū, or White Terns, are protected by law and beloved by Oʻahu's communities. They lay eggs on bare tree branches, and tree workers are encountering them in ever greater numbers in the Honolulu area. Before this project, different tree services had different approaches to work near manu-o-Kū. It turned out that public agencies also didn't always have the most up-to-date information.  DLNR's Kaulunani Program, part of DOFAW, provided funding that helped a group of professionals from different disciplines to get connected, work together, and lay the groundwork for a unified approach. It's really just a beginning – below are steps that this partnership is excited to promote.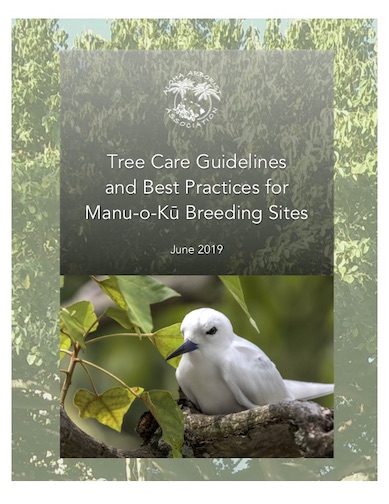 All Tree Care Professionals Should Get the Training
The best way to find out quickly about how to properly work near manu-o-Kū is to attend the introductory training, a 1.5 to 2.0 hour field session. The expert wildlife and arborist instructors will walk you through all the basics:
Manu-o-Kū biology and breeding,
Legal requirements,
How use the online data to locate breeding sites in your job area, and other job planning,
Behavior-defined breeding site buffer zones (the manu-o-Kū's behavior defines the tree worker's behavior),
How to tell when a chick will fledge,
Debunking old myths and out-of-date tree care practices related to manu-o-Kū,
Emergency procedures, and rescue of chicks and injured adults, and
Other best practices
AAA and wildlife partners will continue to schedule training events to help industry professionals. Email AAA for more information at info@alohaarborist.com.
Read the Guidelines
CLICK HERE to download the Guidelines. Use it as a reference guide to look up details about best practices, check on manu-o-Kū facts, and find important phone numbers.
Practice Inspecting Trees for Chicks and Incubating Adults
It takes time to get good at finding White Tern breeding sites. Eggs are small, and chicks often are very still, so they're are hard to find. Don't rush when starting work in an area where manu-o-Kū might be breeding.  The Trained Professional on the job site, and the tree worker in the canopy, both should take enough time carefully examining the trees in which they will work to satisfy themselves that they haven't overlooked any chicks, incubating adults or unattended eggs.  Also, send information of new sightings to Hui Manu-o-Kū using their mobile tool (next section).
Use the Manu-o-Kū Breeding Map Online or Via the Mobile Tool
Manu-o-Kū breeding activity can be hard to detect. Good news – Hui manu-o-Kū has been putting information on breeding sites online. Click Here to get directions on how to use your mobile device to check whether trees on your job site are listed, and find photos of the branches where the breeding is located. We also need your help – if breeding sites are found in trees not listed by the Hui, follow the directions to add new trees to the database. This will help the Hui track population changes, and help our communities do a better job protecting manu-o-Kū.
Behavior-Defined Buffer Zones – The Tree Professional Must Be a True Professional
Working together, wildlife agencies and AAA determined that tree care work can be done while there is breeding activity in a tree – as long as s/he is trained and can carry out the guidelines and best practices while working near chicks, incubating adults and unattended eggs. Behavior-defined buffer zones involves learning to read individual manu-o-Kū behavior, employing non-threatening behavior, and other specific practices that make it possible to enter a tree with breeding activity. Email AAA at info@alohaarborist.com to put your name on the list for trainings.
Working Together Helps Our Communities Move Forward Together
The best lesson may not be spelled out in the Guidelines. It is that AAA, wildlife agencies, public agencies, wildlife groups, and arborists and tree workers were able to work together to come to agreement on the guidelines and best practices. We did so when it seemed in the past that the goal was out of reach.
If we continue to reach out to each other when there are questions or problems, we as individuals, as businesses and as public stewards can continue to benefit each other and our communities.
This is how to reach some of the partners of this project:
– US Fish and Wildlife Service, Migratory Birds Office – Jenny Hoskins at (808) 281-9129, jenny_hoskins@fws.gov; or Keith Swindle and Jennifer Roth (808) 861-8525.
– Hawai'i DLNR Division of Forestry and Wildlife – (808) 973-9778 (Oʻahu), M-F 8:00 a.m. to 4:30 p.m.
– Hui Manu-o-Kū hotline, (808) 379-7555 – For questions about the Breeding Map, breeding data, and where to take chicks that cannot be re-united with their parents. Did we mention they have a great website about manu-o-Kū, and host the data and tree maps showing where the White Terns have breeding sites? https://www.whiteterns.org/
– Hawaiʻi Wildlife Center – (808) 884-5000 during business hours, or (415) 503-8098 after hours. HWC is open 7 days a week for wildlife rescue assistance. http://www.hawaiiwildlifecenter.org/
– DOCARE (DLNR's Division of Conservation and Resource Enforcement) – If you believe you are witness to a violation or have information about a violation and wish to report it, call (808) 643-DLNR (643-3567) to reach
TRAINED ARBORISTS AND TREE CARE PROFESSIONALS — The individuals listed below participated in training and provided invaluable feedback on the Guidelines and Best Practices Near Manu-o-Kū Breeding Sites.
Corey Bassett, SmartTrees Pacific
Brian Fukada
David Golden, Tree Solutions Hawaii
Andrew Hardman, Davey Tree Surgery Co.
Justin Jacobs, Tahitian Tree Services, Inc.
Adrian Klasovsky
Mafatu Krainer, Tahitian Tree Services, Inc.
Carol Kwan, Carol Kwan Consulting LLC
Mark Leon, Sunshine Landscape
Roy McClain, Davey Tree Surgery Co.
John McComas, H.T.M. Contractors
Quintin Nilo, Nilo Landscape Co.
Ilana Nimz, Tree Solutions Hawaii
James Ramelb, University of Hawaii at Manoa
Christian Stephenson, Landscape Hawaii, Inc.
Allan Torio, Davey Tree Surgery Co.
Kyle Ushijima, Landscape Hawaii, Inc.
David Woodworth, Davey Tree Surgery Co.
JC Yosuke, University of Hawaii at Manoa
Joseph Zambo, Aloha Arbor Care