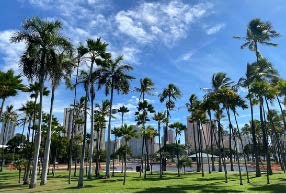 Join the speakers for an evening lecture and in-person tour that will discuss methods and new tools to
identify and manage Hawai'i's cultivated trees. Hawai'i is home to a diversity of trees unlike
anywhere else, and the issues surrounding trees are unique. The most common
native, ornamental, and weedy trees will be outlined and the speakers will introduce new tools to help participants identify different species and find the right tree for the right place. This presentation will be an evening lecture via Zoom followed by an in-person tree walk on the UH Manoa campus three days later.
Register here: https://forms.gle/FNjgampYZiREMhQV9
Virtual Zoom Lecture: Thursday June 3rd at 6 PM HST
Join us at this link: https://calpoly.zoom.us/j/83695144027
In-Person Tree Walk: Sunday June 6th at 4 PM HST
UH Manoa Campus, meet at Varney Circle.
Meeting location: https://goo.gl/maps/HvSaRNNB3siJiB346
3.5 ISA CEUs available (1.5 CEUs for the talk, 2 CEUs for the walk)
NOTE: Participants can attend either event or both. The lecture is not a prerequisite to the walk.
Cost: FREE!
Presenters:
Dr. Matt Ritter – Winner of the WCISA R. W. Harris Award for excellence in education and author
of several books on plants.
Dr. Jenn Yost – Inspiring professor of Botany at Cal Poly, where she teaches field botany, ecology
and evolution.
Kevin Eckert – Renowned arborist with over 40 years of active research and consulting for urban
forests in Hawaii and internationally, WCISA and Britton Fund board member.