Pest of the Month
Mamaki Rust (Pucciniastrum boehmeriae)
Photos: Hawaii Department of Agriculture, Plant Pest Control Branch
Description: Mamaki rust was only recently observed for the first time in Hawaii.
Distribution: Widespread in eastern Asia. On the Big Island, Hawaiian Acres, Kurtistown. On Oahu, in the Koolau Mountains.
Hosts: First seen on endemic mamaki, aka mamake or waimea (on Kauai) (Pipturus albidus) in 2013 on the Big Island. Also observed on akolea (Boehmeria grandis) 2015 on Oahu. This rust disease is expected to become a threat for other native members of the nettle family (Urticaceae) that are critical forage and habitat to native fauna, including the Hawaiian crow and the Kamehameha butterfly, the official state insect.
Symptoms and Damage: Leaves develop vein-delimited dark/chlorotic spots or lesions on the upper side of leaf surface, tiny yellow to orange pustules on the lower side of leaf surface. Trees develop canopy thinning due to defoliation.
Control: Currently there are no fungicides specifically approved for control of this disease, however local extension advisers and licensed pesticide applicators can be consulted about use of chemical control. Remove and dispose of infected plant materials, sanitize tools, avoid overhead irrigation, and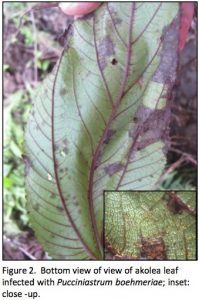 maintain growing conditions that suppress rust disease. Do not move plants in the nettle family from the infested areas. Please report any suspected sightings of this pest to the HI DOA at 808 973-9546.

Additional Resources:
Hawaii Department of Agriculture, "New Pest Advisory: Mamaki Rust," (No. 16-01, May 2016), http://hdoa.hawaii.gov/pi/files/2013/01/Pucciniastrum-boehmeriae-NPA-5-16.pdf
Demers, J.E., and J.M. McKemy et. al., "First Report of Rust Caused by Pucciniastrum boehmeriae on Mamaki (Pipturus albidus) in Hawaii," Plant Disease (Vol.98, No.6 June 2014), p. 855,  http://apsjournals.apsnet.org/doi/abs/10.1094/PDIS-11-13-1172-PDN